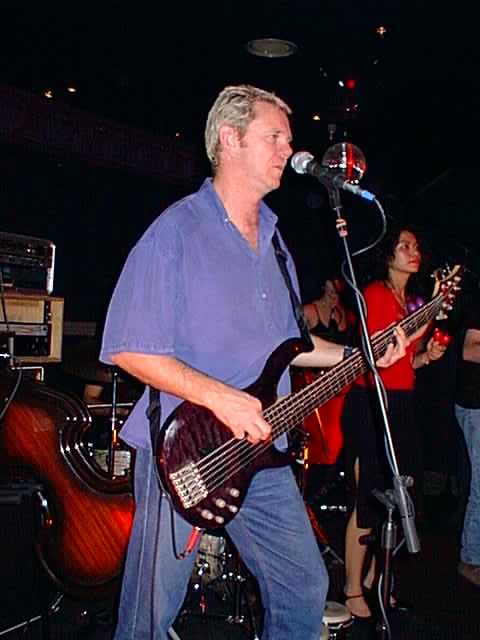 Lindsay started playing guitar in 1967 but switched to bass soon after. The first bands the he played in were largely with friends playing high school gigs etc. In 1970 things got more serrious with music and he started playing with more serious musicians and at professional venues including The Arts Factory in Sydney's Goulburn St which was, loosely put, Sydney's answer to The Fillmore in San Francisco. Loads of batik, tie dyes, oil lamp light shows, market stalls, the whole psychedelic thing going on. It was Australia in the midst of a major musical and arts movement.
Lindsay came through that era and that connected directly to what was the "circuit" for the bands that had strong followings and played at venues like Chequers Nightclub, (which had recently converted from a Cabaret and had hosted huge stars like Shirley Bassey etc), Whisky A-Go-Go and countless other suburban, intrastate and interstate venues.
Working in the live music scene in Melbourne during this time it was common place for acts to play 3 venues a night on Friday & Saturday. As Lindsay says " I remember, to get to play at Chequers and the Whisky you had to do an actual live set as an audition. You either had it or you didn't".
If the band didn't cut it, you were out, simple as that. Even once you had qualified and were playing the venues, you could be "fired" on the spot if you were having an off night. Thankfully this didn't happen to any of the groups or acts that I was with but I saw it happen to quite a few.
I co-wrote the "rock opera" Middle Way, whilst in Simba, which is the band I was playing with at this time. We were playing some pretty powerful Progressive Rock.
We had a strong and loyal fan base and were scheduled to tour Europe in '74 but personality clashes saw the band grind to a halt just a few months before we were due to leave.
The funny thing was 12 months later everyone was getting on like brothers again. From 75/76 :indsay was touring nationally with Francis Butler, who had been touring non-stop since getting a lot of attention at the legendary music festival at Sunbury.
As Lindsay says:
"We kinda played a Byrds meets Eagles sort of mix. Francis was a good songwriter and this is the first band that I actually started to sing in.
Francis was a lot of fun on the road and was renowned for some pretty outrageous stuff on stage. I had been recruited into Francis's band by drummer Tony Cerrente who had been in the Jacky Christian Band and he played the drum tracks on ACDC's High Voltage album sessions. He had a good connection with the Young Brothers. The Francis Butler Band saw my reunion with ex-Simba lead guitarist, Iain Cameron.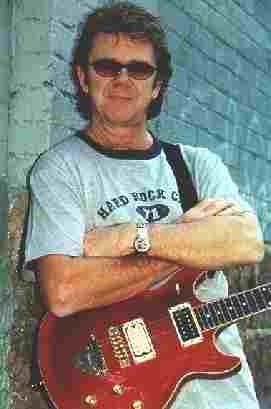 Francis was to retire from the live scene in early 76 but 3 months before that we had replaced Tony with new drummer Tom Callaghan. This was really the start of a rhythm section that was absolute magic. Tom and I just clicked. We thought it the same way, we felt it the same way. We would get so deep in the pocket we were just locked in. We would break out spontaneously and were always so syncopated the engine room was cooking.
We were to become known among a lot of the other musos at the time as "The Rhythm Section" which was a humbling acknowledgement of what we were achieving together.
Based on this foundation and with old Simba brother Iain in the mix we rolled directly from Francis to the 3 piece Aura, playing a great mix of Southern Blues Rock and Boogie.
Aura was to headline a lot of the major venues of the day including the legendary Bondi Lifesavers Nightclub in Sydney's Bondi Junction.
I remember with AURA playing at Chequers one night and a couple of guys from another band asking us if the sound guy was playing the synth at the desk. We were like "What synth? There's no synth. It's just us 3". We reckoned it must have been overtones and harmonies but still to today they claim they heard a synth that night.??? Well it was the 70's!
AURA was a great band to play in. We were pretty free within the 3 piece lineup. We shared the lead vocals and it was in AURA that I fell in love with fretless bass. A 3 piece, tight as fuck, free playing rock band. It doesn't get much better than that.
We had a lot of offers to record. Mostly from the wrong labels. A lot of friends were in serious amounts of debt from the wrong deals so we were very wary of going that way. I saw people lose a lot of hopes and dreams through this period. Thankfully I wasn't one of them.
Disco came into Australia and wiped out pretty much the whole live scene. AURA went from 6 gigs a week to 2 gigs a month. One thing that Lindsay has not done and will never do is play crap, with crap, just so he's out there playing.
Lindsay spent 10 months driving a cab 6/7 nights a week to pay off outstanding AURA commitments for things like the bands PA, Truck , Backline etc. The era of gear hire wasn't around too much at that time. You owned it, you had to have 2-3 roadies minimum, you had HUGE overheads.
As Lindsay says:
When disco came in, we weren't the only ones left holding the baby…
Like a lot of Prog Rock guys in the early 70's I got heavily into Jazz Fusion.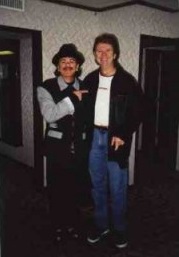 We had been listening to Mahavishnu, Santana, Chick Corea, Miles Davis, Stanley Clarke, Weather Report, Herbie Hancock, Narada Michael Walden etc and I had been studying at the NSW Conservatorium of Music so maybe this was a natural progression.
It wasn't uncommon to be playing fusion all day and blues rock at night.
We used to have some awesome jam sessions with other guys that were into this stuff and I think that kept us all sane through the live music drought.
Mid '78 I was asked to join The Chris Turner Band.
Chris had been doing a lot of lead guitar sessions with Rose Tattoo and was about to put a live band together. We rehearsed for two weeks and then did 36 gigs in 6 weeks and on from there. The drought was definitely over.
During this time with Chris we recorded a track on an album called 10 of the Best at 301 with Richard Lush (Abbey Road/EMI). Basically it was one track each from the "10 Best" guitarists in Australia.
Over time I have actually played with 7 of them. From The CTB I was asked to fill in for a few gigs with the Kevin Borich Express who had just returned from the USA. On their 3rd gig of the tour the bass player had injured himself on stage.
I had already left the CTB and got a call at 11am from KB to do a gig 100 miles north that night. Former Kevin Borich Express bass player Harry Brus was unable to do it and had recommended me.
Pick up was late. No surprises there Ha Ha. No time for a rehearsal just "here's the tape of the new album" in the bus and straight on stage. This gig was so packed they were literally hanging from the rafters. Kevin and drummer John Annas had both just been voted the best rock guitarist and drummer in the country. They had just returned from the US. The hype was amazing. I at least managed to write the keys down on the set list. That gave me a fighting chance.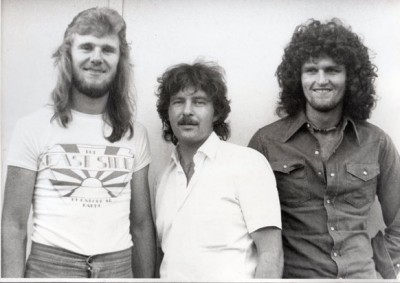 So here I am playing a fretless bass, with the biggest thing going at that time, unrehearsed and in front of a ravenous crowd of Borich fans. There anticipation was electric.
I can honestly say I can't remember anything about that gig. All I know is that I was operating from another place. Thank God for Guardian Angels Ha Ha.
Their regular guy had hurt himself more than anyone had thought so the fill in gig lasted for the whole North Coast leg of their tour.
Six weeks later I was asked to join the band for a national tour that included Renee Geyer. Still no rehearsal from the Express. We did rehearse Renee's stuff though.
In late 79 I decided it was time to go and sold up and moved to the UK.
I played with a local London band called Secret, managed by Magic Management, which was set up by former Roxy Music management. I also jammed and recorded with a lot of London based musicians and Carlin contracted songwriters and met with Chris Wright, co-owner of Chrysalis Records.
The scene in the UK at that time was like a breath of fresh air. I met stacks of the ground breakers of that time, including Siouxie and the Banshees, Stray Cats, Gillan and ex Sex Pistols Paul Cook and Steve Jones. I returned back to Australia reinvigorated and with a plan. I played with guitarist Dennis Wilson and then had a foray into management and managed two recording bands. The NZ outfit The Knobz (RCA) and Dragon Todd Hunter's XL Capris (RCA/BMG).
In 1982 I formed ALIBI with drummer Tom Callaghan again in the engine room.
This 3 piece Powerhouse Progressive Heavy Rock Band was an awesome line up and encored every gig without exception. It was a no holds barred "love it or hate it" band that had inspirations as far apart as jazz fusion and power rock. All original material. I think it was ALIBI that really put the finishing touches on my writing, arranging and playing.
We ran that unit for 6 years and were always getting heat for blowing away headliners when we supported them. On reflection the band should have been in Europe. After a final 12 months of closed rehearsals and broken promises, we rolled into a band called House Party.
The idea for House Party was just to get out there and have some fun. We mostly played covers intertwined with ex ALIBI songs deemed acceptable. We played some Dr Feelgood stuff, Eddie Cochrane, ZZ Top. Fun band. I was getting really disillusioned with the quality of live venues and decided to take a 5 year break from live performances and at Todd Hunter's recommendation set up a recording studio.
The break actually ended up 10 years, but in that time I added Guitar, studying with an old friend, ex Blackfeather guitar legend, John Robinson. I had studied fusion bass with John in the 70's and knew he was the only guy in town that could teach me what I needed to know. We not only covered guitar, but production, composing, engineering. The whole box and dice.
In 1994 I met and still remain friends with Carlos Santana and the band. I have travelled on tour with them many times, here in Australia, Japan and the US.
In 1998 I formed the Linzi O band and in 2000 recorded the debut album From There To Here, co-produced with John Robinson and mixed with Myron Dove. (Santana, Quincy Jones, Stevie Wonder, Chaka Khan and a lot more). Our first single went to number 1 on the MP3 Latin Charts and stayed in the charts for 5 months. Tracks from the album also featured in several surf movies and TV sports shows.
I had been playing acoustic bass since 1978 and the Cuban/Salsa side of the O Band saw me step up to upright Acoustic and Electric Bass.
The Linzi O Band ended tragically with the death of lead vocalist/percussionist Cameron Howie and family in a car accident in Sydney's northern beaches.
I really felt that there was no way we could continue in the same direction after that and myself, Anthony Cianci (drums) and Maria De Rota (congas/percussion) formed Ozone. Ozone was a mix of our Latin/African rhythms from the "O Band" and House/Dance music. It was a load of fun and saw us add female vocalist Behir.
With some decks and sampling Ozone was a cutting edge unit that really filled the dance floors and took the roof off at venues. People just loved seeing this style of music created live.
In 2005 I returned to the studio and full time producing.
Q. Do I miss live playing?
A. Well, yes a part of me does. But only if the music, the lineup and the vibe was right. I have been friends with Carlos Santana and band since 1994 and I can tell you when I have been on the road with them, I really miss it. Those guys are on a different level.
Q. Do you have any advice for young aspiring artists?
A. Two things that they should carve in stone.
1. If you can't do it under one light in a t shirt…you just can't do it!
2. Real music is heard in the heart.